STAN SPOONER TO SPEAK AT CBU!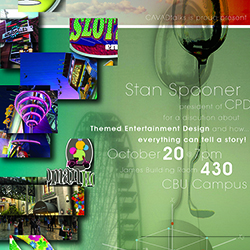 October 20 @7 pm
James Building 430 CBU campus
Stan Spooner president of CPD for a discussion about themes entertainment and how everything can tell a story!
Stan Spooner was Professor Berger's creative director at David Riley Associates and has a great insight to the design industry. If you are a design or photo major you won't want to miss this.